Originally posted on The Educator's Room
By Terri Froiland
In my six years as an instructional coach, I have been fortunate to have been given a great deal of professional development in a variety of coaching models, from invitational coaching to transformational coaching.  As I have been trained in various models, I have worked hard to adapt and learn the new lingo.  However, regardless of the model, one secret to coaching success never changes: It all starts with building relationships.  In order for educators to truly benefit from working with an instructional coach, they need to trust that they are actually there to support them.
It all starts with building relationship
Click To Tweet
Here are some ways to build those relationships:
Find an entry point to help. Once I was coaching in a school that was adding a bilingual program.  Sadly, I am not bilingual but still felt like I had something to offer to those teachers.  I was shocked when I went room to room introducing myself the first day and a teacher told me I was not welcome in her room since I do not speak Spanish.  Rather than arguing with her, I bided my time.  Two weeks later, some new classroom furniture arrived for her and I offered to unpack and assemble it for her.  That investment in her, though far from my coaching job description, got my foot in the door and helped us to develop a great connection.
Be trustworthy. A teacher's time is so precious.  If you schedule a coaching session with an educator, show up.  If there are extenuating circumstances and you just can't make it, notify them as soon as possible and offer to make it up to them in some way…reschedule at their preferred time, bring them chocolate, whatever it takes!
Listen all the time. Everyone appreciates feeling listened to, so ask lots of reflective questions and listen carefully to their responses.  Not only will you build rapport, but you will learn so much about how to best support each educator in this manner.
Praise whenever possible. Every conversation you have with a teacher should include some praise.  It's comparable to teachers conferring with students; starting by sharing something positive you noticed gets everyone off on the right foot and feeling more open to some constructive advice.
Cycle your support. Be aware of the school-year cycle for new teachers, which is also pretty applicable for veteran teachers in my experience.  In addition to listening to your teachers and being responsive, this cycle can help you be proactive with your support when they need it most.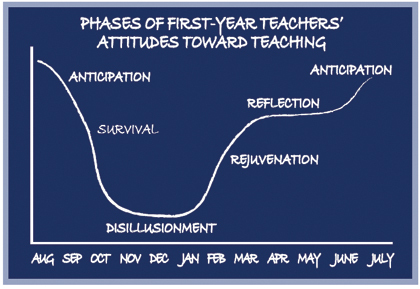 California New Teacher Project, published by the California Department of Education (CDE), 1990.
Bring food to all meetings. Treats are the way to every teacher's heart.  I accidentally forgot to show up for a meeting earlier this year.  I felt so badly about it and knew that the inconvenience it caused required more than a mere apology, so, when I rescheduled, I offered to buy sub sandwiches for our next lunch meeting.  The teachers truly appreciate it and there were no hard feelings because of my gesture.  That was a fairly grand treat…don't forget the power of a little bit of chocolate!
Have you ever worked with an Instructional Coach? If so, did it help your practice?